RipNRoll's New Pokin'man Condoms – Catch the ladies, not the STI's!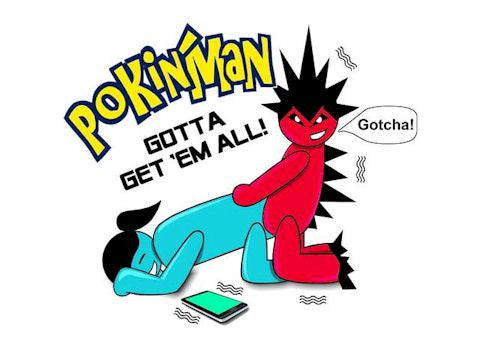 With the world in submission at the feet of Pokemon Go, the new smartphone app that has swept the world by storm, we are constantly told that we have to 'catch em all'. Being an advocate of safe sex here at RipNRoll, we agree to catching all the ladies and not the sexually transmitted diseases.
Enter … our new Pokin'man condom range!
So what effects do the new Pokin'man condoms have on a guy? Ha, we thought you'd never ask…
Picture the scene.
You're out. It's a Friday night. Good vibes fill the air. It's pulling night and you've got your best 'smiley face' underwear on. Wingman is in place. Wallet loaded with Pokin'man condoms. It's only a matter of time before the spirit of the Pokin'man kicks in.
An hour or so passes by … You start to feel an animal instinct emanating throughout your body and before long your feral instincts to look for some lovin' kick into overdrive – The Pokin'man begins to take over.
Before long you find yourself with a confidence over-drive and a selection of lucky ladies surrounding you on the dance floor whilst you head-bop to your favourite song requested from the resident DJ. You've got the pick of the bunch and you know it. It feels great to 'catch em all'.
You take one, two, three (or 50? Entirely up to you) lucky ladie(s) home for the night of her/their life. Thanks Pokin'man!
In all honesty though, Pokemon Go has led to more and more people leaving their homes and inadvertently, this has led to more and more people actually conversifying face to face and physically having conversations outside of their Twitter or Instagram – so this can be a great chance for you to meet potential lovers, partners or even soul mates and make great use of those Pokin'man condoms!
In an article by USA Today it warns that Tinder and other dating apps need to 'watch out' as people flock to locations to find Pokemon and in fact, have found love too. Although this has been the case on many occasions, there has also been some stories of Pokemon Go being used as a 'criminal tool' by waiting at 'PokeStops' for people to jump them and steal their phones and other belongings, so be vigilant at all times!
With jokes aside though, we want you to be safe and recent statistics have been alarming at best. In a study carried out by the University of Gothenburg in Sweden, it was found that youths were only using condoms 50% of the time which really does show that there needs to be more education as to the dangers of not using protection.
We agree that you should keep active and think it's great that Pokemon Go is making people and communities more active. We also agree that people should be sexually active too, but please, grab yourselves a Pokin'man condom pack today and do it safely.
….The Spirit of the Pokin'man awaits you.
---